I would like to share with you a fairly typical conversation between a feminist and a trans-cultist–a transgender person who believes, as many of them seem to, that radical feminists are their worst enemy, out to kill them, or see them exterminated, or…something. Because radical feminists dare to question and perhaps criticize the practice and politics of 'transgenderism,' these people feel free to make death threats, use sexist language, and in general, treat women with this point of view as if we were "scum," one of their favorite nicknames for us.

 

Radical Feminist

 

I believe all women should have a right to choose whether they should have an abortion or not. Abortion is a female issue.

Trans-Cultist:
DIE IN A FIRE CIS* SCUM, NOT ALL WOMEN CAN GET PREGNANT WHILE SOME MEN CAN. FUCK YOU, FUCK YOU, FUCK YOU. YOUR IGNORANCE IS SHINING LIKE A FUCKING BEACON RIGHT NOW. I WANT TO FUCKING STAB YOU IN THE FACE. YOU ARE THE SOLE REASON TRANS KIDS KILL THEMSELVES
Radical Feminist:
Wow, can you calm down a little? Why're you using death threats? The fight to take reproductive rights away from women is a misogynistic ploy to control them and their bodies. It's institutional sexism and stems from a thorough hatred of women and their autonomy. It is inherently offensive to belittle the struggles of the female sex in this way. Abortion is, and always will be, a female issue. Only biological females can get pregnant, and only biological females' bodies are up for ownership and control by men under the patriarchy.
Trans-Cultist:
DON'T TONE POLICE, OPPRESSOR. DIE CIS SCUM, MEN CAN GET PREGNANT. IT'S NOT A FEMALE ISSUE, SHUT THE FUCK UP AND DIE SOMEWHERE, OR GET RAPED. THINK ABOUT THE WOMEN WHO CAN'T GET PREGNANT, BY TALKING ABOUT THE WAR ON WOMEN'S REPRODUCTIVE RIGHTS, YOU ARE TRIGGERING THEM. YOU ARE A CISSEXIST PIG, DIE IN A FUCKING FIRE, CUNT. I'LL KNOW MORE ABOUT FEMALE EXPERIENCES THAN YOU EVER WILL
Radical Feminist:
I don't think I can discuss this with you anymore

*Cis is a modifier that transpeople use as an insult to females and males who are not transgender.

I wish I could tell you that his is unusually violent and just "one bad apple" in the regular discourse between feminists and trans-activists. It isn't. This is the common language that the trans* people use–at least, that is, the 'transwomen,' male-to-transgender (M2T) activists.

Males cannot become pregnant. No matter how much cosmetic surgery, no matter how many years of estrogen treatment a man has, it DOES NOT MAKE HIM INTO A WOMAN. Biology is biology, and humans are reproductively dimorphic.

The trans people actually want us to stop calling our reproductive rights a female issue. It "triggers" them. Well, it does make them mad as a nest of hornets, if that is what is meant by "triggering." It's hard to know what doesn't make them angry, as it seems they are a group of people who are enraged most of the time.

I'm not sure how it happened, but recently, "DIE IN A FIRE!" has become the favorite slogan of this "community." Perhaps the fire they refer to are those fires in which women were burned at the stake.

Aside from the Men's Rights Activists, I have never encountered a more misogynist group of people in my life. I don't know if it's their envy of women that causes this hatred, but I suspect so.

Transpeople: If you want to be taken seriously, I think perhaps you ought to stop making death threats. You ought to let us assemble peacefully, without your intrusion. And you might have a look at the U.S. Constitution; the Bill of Rights especially, and it's guarantee of free speech. You will never silence us. Never.

 

 

 

 
 
 
 
 
 
 
 
 
The Crunk Feminist Collective
Guest post by Ashwini Hardikar
Original posted on her personal blog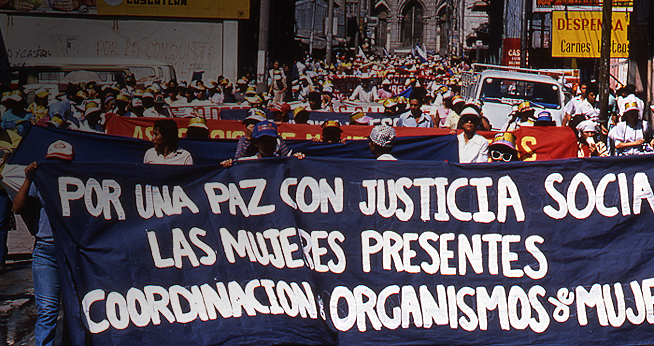 In much of Latin America, collective memory of terror is often tied up with U.S. presence and intervention. For over a century, the U.S. government and military has occupied nations,trained soldiers on how to be better murderers and torturers, and helped to squash democratic popular movements in favor of genocidal fascist dictators in Latin America and the Caribbean. This may sound hyperbolic, but the facts show that if anything, the previous sentence is understated. So it's with good reason that the presence of agents of the United States can signify at best deception, at worst widespread violence. The latest examples of these signifiers, involving United States armed forces and executive security detail, reveal a complex history that continues to impact the lives of ordinary Latin Americans, and should prompt all of those living in the United States…
View original post 778 more words
National Domestic Violence Statistics
According to the U.S. Surgeon General, domestic violence is the leading cause of injury to women in the United States.
The American Medical Association estimates that their male partners assault 2 million American women each year.
The U.S. Department of Justice estimates that 95% of the victims of domestic violence are women.
A woman is beaten every 15 seconds in the United States. (Bureau of Justice Statistics, Report to the nation on Crime and Justice. The Data. Washington DC Office of Justice Program, US Dept. of Justice. Oct 1983)
35% of all emergency room calls are a result of domestic violence.
Of those who abuse their partner, well over 65% also physically and/or sexually abuse the children.
Each day …..4 women die as a result of abuse.
Each day …..3 children die as a result of abuse.
The Federal Bureau of Investigation reports that 32% of female homicide victims are killed by their intimate partners. (Federal Bureau of Investigation, Crime in the United States 1999.2000)
Anywhere from 1-3 million women are battered each year by their intimate partner. (Bureau of Justice Statistics, Intimate Partner Violence. Washington DC, 2000.)
In the United States, a woman is more likely to be assaulted, raped, or killed by an intimate partner than by any other type of assailant. (ibid.)
Nearly one-third of American women report being physically or sexually abused by a husband or boyfriend at some point in their lives. (Commonwealth Fund Survey, 1998.)
Approximately 85% of the victims of domestic violence are women. (Bureau of Justice Statistics, Intimate Partner Violence. Washington DC, 2000.)
37% of all women who sought care in hospital emergency rooms for violence related injuries were injured by a current or former spouse, boyfriend, or girlfriend. (US Department of Justice, Violence Related injuries Treated in Hospital Emergency Departments, August 1997.)
11% of all murders in 1998 were the result of domestic violence. (Office of justice Programs, May 17, 2000 press release , http://www.ojp.usdoj.gov)
There has been a lot of attention paid to transsexuals who are murdered and attacked in the U.S. There is a "Day of Remembrance" for these victims, and no doubt, T* people DO suffer abuse and violence.
That is wrong, of course, and of course we must do all that we can to put an end to it.
But every day–EVERY DAY–here in the U.S., women–females–are murdered by abusive partners. Where is the National Day of Remembrance for them?
95% (or more) of these murders are committed by men. That is, almost ALL of them.
And yet, the trans community tells us that they are the most oppressed, suffer the most violence, deserve the most sympathy, the most help.
Radical feminists are told by the trans people and their supporters and apologists that they–we–are responsible for their suicides and murders. We–women–are told that their blood is on our hands.
And yet, radical feminists are not their killers. MEN ARE.
It is my belief that the trans people blame feminists–radical feminists–because we are easy targets, because we actually listen to their complaints and demands, we actually take their arguments into thoughtful consideration, and debate using feminist principles.
Their murderers do not.
We can argue about female-only space, what the trans phenomenon means for females, how it reinforces roles we have rejected–all of it. But in the end, the one statistic that matters the most, the one fact that is the horrible truth for so many women, is that they are more likely than not–MORE LIKELY THAN NOT–to be abused, beaten, and possibly murdered by men.
When the trans community observes a day of mourning for those victims, when 'transwomen' recognize who their REAL enemies are, when they stop going after radical feminists with threats of violence and protests, perhaps there will be a little more sympathy for them.
When they stop proving they are men by acting like the men they are, perhaps they will be accepted as the women they so long to become.
Until that day, I will fight to keep women alive. I will put my energy, time and resources into the struggle for life that all women face, every single day of our lives, from infancy on.
If that is somehow "transphobic," then so be it.